L.A.'s downtown continues its redevelopment boom with a dramatic project announced for a 14.5 acre site near the burgeoning "Arts District". The development, helmed by Irvine, California's SunCal and designed by Herzog & de Meuron, will include two 58-story towers, a 430,000-square-foot hotel, 250,000 square feet of office space, a 29,000-square-foot school, 23,000 square feet of gallery space and 128,000 square feet of commercial space.
The inclusion of a school and art gallery space signals a continuing shift in downtown development toward wholistic, domestic, more livable spaces to accommodate the influx of permanent residents instead of just commercial development.
The Arts District was originally a warehouse district near the river and rail yards that became largely abandoned in the middle 20th century. Artists began renovating the warehouse spaces into lofts and studios in recent decades until a hip, urban vibe began to attract more mainstream development.
Herzog & de Meuron's announcement of this $2 billion development plan represents a major vote of confidence in the future of this area near downtown L.A., which has become one of the hottest real estate markets in the country. The area will also be impacted by the presence of a light rail line that is planned nearby, connecting this more remote area of downtown with more developed neighborhoods both north and south.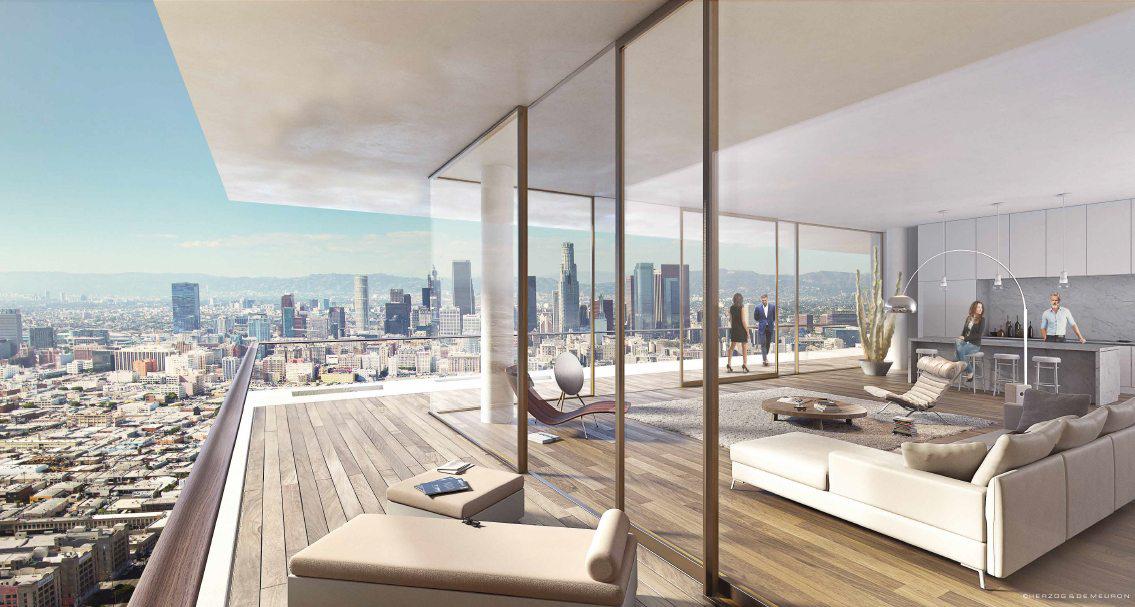 The project itself is articulated as a grouping of parallel bars of mid-rise apartments, offices, and hotel blocks, much of which is lifted roughly forty feet above street level on a raised platform whose upper surface will be level with the cornice lines of nearby industrial buildings.
Areas between the ground floor and this pedestal will contain commercial spaces services by exterior walking paths and leisure courts. The most daring aspect of the proposal entails a cluster of seven housing towers aligned along the length of Alameda, with the highest tower climbing to around 58-stories and a height of roughly 700 feet.