Relocity's Excellent Performance Earns Award
By Matthew Hutchison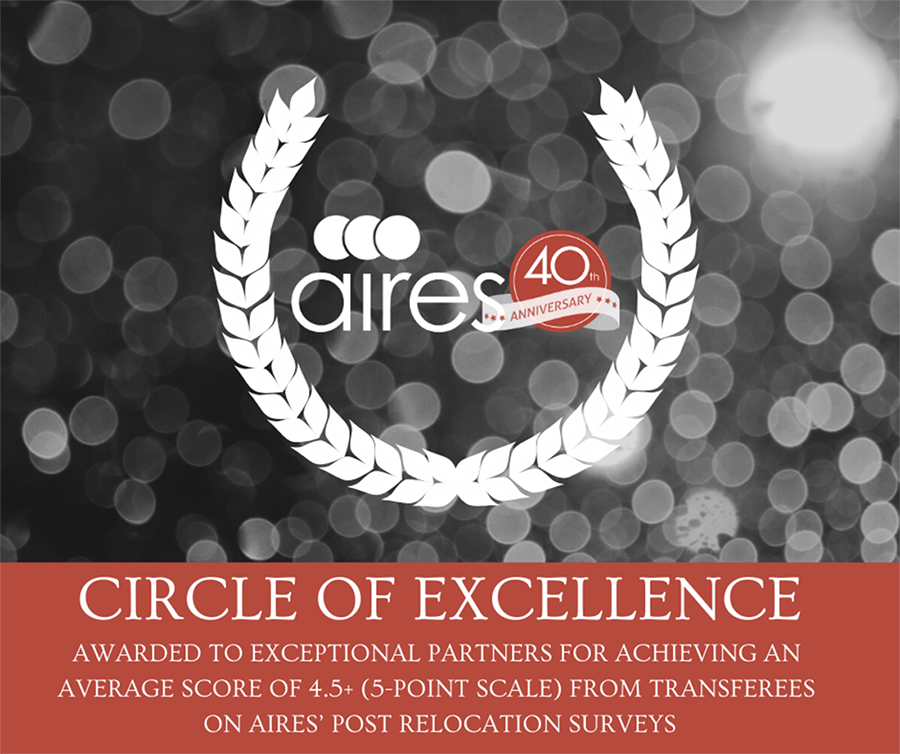 Aires, a leader in Corporate Relocation Services, has recently awarded Relocity the Circle of Excellence Award for the second straight year for maintaining an average customer satisfaction rating of over 4.5 stars (out of 5). A preferred partner of Aires, Relocity achieved a satisfaction rating average exceeding 90% based on post-relocation surveys from Aires' transferees.
We attribute the high ratings to our customer-centric offering, which combines high-touch, personalized attention with proprietary, machine-learning-assisted technology designed to optimize the service experience.
A highly-trained Relocity Personal Host delivers curated services both in-person and virtually, supported by a suite of relocation-related features, such as layered maps, video chats, and virtual tours, all through the Relocity Platform and App.
We at Relocity are pleased that our efforts have earned this prestigious award. The honor reinforces our commitment to providing even higher quality experiences for our customers in the future.
For more information about Relocity's services, please contact contact@relocity.com.
Relocity Accelerates Growth with Berlin Office
By Matthew Hutchison
Relocity announced today that it has expanded its operations into Berlin, adding another international location to its portfolio that includes London, Dublin, Cork and Singapore.
Relocity is a fast-growing destination concierge company that is making the moving process less stressful and more personal through the use of an innovative service delivery model and proprietary technology platform. Relocity streamlines and enhances the experience for both the employee and the client. Relocating employees are assigned a Personal Host, a local expert, who works with a pre-determined number of hours to guide them during the process of finding a home, enrolling children in school, and simply settling in to life in their new city.
Relocity was founded by Klaus Siegmann, an immigrant from Germany, whose difficult experience relocating to Los Angeles with his wife and newborn daughter caused him to rethink the process and imagine ways he could improve the experience for others. Drawing on his background as a serial entrepreneur and founder of one of the most successful management consulting firms in Germany, Klaus founded Relocity in 2016. The company is the fastest growing provider in the destination services space, with over 150 employees and a global presence, including our APAC headquarters in Singapore and our EMEA headquarters in Dublin. U.S. locations include Los Angeles, San Francisco/Silicon Valley, New York, Washington D.C., Seattle, Portland, San Diego, Reno, Austin and Boulder/Denver.
Is Relo Costing You $10K More Per Employee Than You Think?
By Matthew Hutchison
How Productivity Loss May Be Impacting Your Bottom Line:
While many costs of relocating employees are predictable, one cost that many mobility managers and companies forget to consider is lost productivity.
If you are like most companies, you have invested a considerable amount of time and effort negotiating with providers and tweaking relocation policies to keep costs down. But have you stopped to consider the indirect cost of employees being unproductive during and after their relocations? A recent study by Altair Global, as a part of their Momentum Survey Series, shows that lost productivity costs can be as high as $10K per relocating employee, or even higher!
Luckily, although the impact can be costly, the mitigation need not be.
Relocation is Hard
Productivity losses due to relocation should come as no surprise when you consider the disruption that any human will experience in the process of uprooting their life from one city and attempting to recreate some semblance of normality in another. The transition can be even more disruptive if an employee has a spouse and/or children.
Even for the most dedicated and responsible employee, managing such a profound transition is bound to demand extra time and effort. Where else can an employee find this extra time except by intruding on work hours?
Lost Productivity - The Hidden Cost of Relo
Typically, companies expect a relocation transition period to last only a few days. In the traditional model, companies have provided an average of only 2-3 days of logistical support in the form of destination services. Companies generally expect productivity to be substantially normal by the time the employee returns to regular work hours. However, evidence reveals how unrealistic these expectations can be.
Altair Global recently performed a survey of over 1,200 relocated employees from 12 companies to learn about the hidden costs of relocation. Different facets of the relocation process were divided into "low-impact" and "high-impact" events, with high impact events defined as causing more than three days of lost productivity, as reported by the respondents.
Homeowners reported an average of 6.6 high-impact events, and renters reported an average of 5 high-impact events, during their relocations. In terms of time, this means renters experienced 15 days of lost productivity, and homeowners reported a loss of 19.8 days!
These numbers are startling when compared to the expectations of most companies, especially when you consider that this lost productivity is above and beyond the expected lower-impact events that make up the normal relocation period.
Where did the time go?
What constituted high-impact events? According to the survey, the most impactful events in terms of lost productivity (in order) were 1) Finding a home at the destination, 2) Selling the home at point of origin or breaking the lease, 3) Shipment of household goods, 4) Job training/professional development, 5) Acclimating to the new job, and 6) Settling into the new destination. Other impactful events included family issues, finding a support network, and setting up the new household.
So, the majority of impactful events occur at the destination.
Lost Productivity Can Continue for Months
These figures reflect the primary relocation process. But productivity losses can continue far beyond the initial transition period. To document this, the survey continued by asking respondents how long it took for them to return to a completely normal "pre-move" state after they relocated. Only 2% reported being completely back to normal after one month! For 48% it required 2-3 months, and 33% required 4-6 months. For 6%, it required over 6 months to become as productive as they were before their move.
As the Altair survey clearly demonstrates, the costs of relocation almost always go far beyond the amounts listed on vendor invoices. In fact, lost productivity can end up costing far more than any direct expenses associated with relocation.
According to Altair, for a company that relocates 100 employees per year (50% homeowners and 50% renters), the financial impact of lost productivity in terms of salary, benefits, and expected ROI, in addition to lost revenue, could be more than $900,000 per year.
Another Victim of Relocation Disruption: The Employee Experience
The above statistics reveal more than just the hidden costs associated with the relocation process. If you pay close attention, they are also a plea for help. When one considers the disruption and stress reported by employees who are relocating, the negative impacts affect more than just the company's bottom line. They also take a toll on the emotional and psychological well-being of an employee.
If you want to improve the employee experience, clearly a great place to begin is by providing support during and after the relocation process.
A High Impact + Low Spend Solution
Compared to the price of lost productivity, providing your employees with a benefit to support their transition periods can be very affordable. Especially if your Destination Services Provider (DSP) works on an hourly model, a modest investment can have a dramatic positive impact on the employee experience and hasten the return to productivity.
DSP's do this by offering guidance based on extensive local experience, and by taking away the stresses of adapting to a new environment much more quickly. Beyond helping employees find the right home, a quality DSP benefit can help employees gain access to the best schools, accommodate their pet needs, deal with government bureaucracy, manage their home life, and then get back to work creating value for your company in a much shorter timeframe than they would if left to deal with these issues all on their own.
The process can be even more efficient if supported by innovative technology, an area in which Relocity is an industry leader.
Making the Smart and Compassionate Choice
By considering the long-term bottom line, and not just the immediate expenses of relocation, mobility managers have an opportunity to mitigate the inevitable loss of ROI associated with lower productivity by providing a DSP benefit as a regular part of their relocation policies. When the positive effects of an improved employee experience, higher morale, and enhanced employer brand are factored in, destination services are clearly a win-win solution for all involved.
To find out how Relocity can be part of the solution, please contact sales@relocity.com
* * * * *
To download the full report or read additional studies within the Momentum Survey Series*, please visit Altair Global's website.

*Momentum study data used with permission from Altair Global Services, LLC.
About Altair Global
Since 1989, Altair Global has been delivering exceptional mobility experiences to customers and clients worldwide. Supported by sophisticated, dynamic technology, our focus on experience management drives continuous improvement and innovation in our full-service global assignment and relocation services. Trust Altair to guide your mobility journey. Please visit www.altairglobal.com.
Relocity Accelerates Growth with London Office
By rd
Relocity announced today that it has expanded its operations into London, adding another international location to its portfolio that includes Dublin, Cork and Singapore.
Relocity is a fast-growing destination concierge company that is making the moving process less stressful and more personal through the use of use of an innovative service delivery model and proprietary technology platform. Relocity streamlines and enhances the experience for both the employee and the client. Relocating employees are assigned their very own Personal Host, a local expert, who works with a pre-determined number of hours to guide them during the process of finding a home, enrolling children in school, and simply settling in to life in their new city.
Relocity was founded by Klaus Siegmann, an immigrant from Germany, whose difficult experience relocating to Los Angeles with his wife and newborn daughter caused him to rethink the process and imagine ways he could improve the experience for others. Drawing on his background as a serial entrepreneur and Founder of one of the most successful management consulting firms in Germany, Klaus founded Relocity in 2016. The company is the fastest growing provider in the destination services space, with over 150 employees and a global presence, including our APAC headquarters in Singapore and our EMEA headquarters in Dublin. U.S. locations include Los Angeles, San Francisco/Silicon Valley, New York, Seattle, Portland, San Diego, Reno, Austin and Boulder/Denver.
How U.S. Citizens can Vote while Living Abroad
By Matthew Hutchison
Absentee Voting Information for U.S. Citizens Living Abroad
At Relocity, we encourage all U.S. citizens to vote, no matter their current circumstances. If you are living outside the U.S., here is how you can still exercise your right to vote.
Eligibility to Vote
Most U.S. citizens 18 years or older who reside outside the United States are eligible to vote absentee for federal office candidates in U.S. primary and general elections. Some states allow overseas citizens to vote also for state and local office candidates and referendums.
To verify eligibility and State requirements please consult the 2020-21 Voting Assistance Guide (chapter 2).
In many states, U.S. citizens who are 18 years or older and were born abroad but who have never resided in the United States are eligible to vote absentee. Here is a complete list of the states that have passed legislation to allow that.
US Legal State of Residency
Overseas citizens' legal state of residence for voting purposes is the state or territory where they last resided immediately prior to their departure from the United States. This applies to overseas citizens even if they do not have property or other ties in the last state of residence. Children of these citizens should use the residence address of one of their parents or legal guardians. This residence may remain valid even if the citizen:
No longer owns property or has other ties to that state.
His intent to return to that state is uncertain.
His previous address is no longer a recognized residential address.
Once again, please check the 2020-21 Voting Assistance Guide (chapter 2) for Federal Election Deadlines which vary by State.
Absentee Voting Process
Absentee voting is a two-step process:
1. Register and Request the Absentee Ballot via FPCA here
Each year, ideally in January but at least 45 days before an election, you should submit a completed Federal Post Card Application (FPCA) to your local election officials.
It is important to remember that your voting residence address listed on the FPCA must be an address in the United States. Placing an overseas address in Section 2 of the form may automatically disqualify you.
You can also pick up an FPCA and copy of your state's requirements from U.S. embassies and consulates around the world.
You can always return your FPCA by mail. In addition, most states allow you to send your FPCA by fax or email. Please check the 2020-21 Voting Assistance Guide for your state's requirements.
The FPCA will allow officials to confirm your eligibility to vote and put your name on a list to receive absentee ballots for any elections held that calendar year.
Officials will send you a blank absentee ballot electronically or by mail, to the address you provided on the FPCA.
You should submit a new FPCA once a year o every time you move, and whenever you change your address, email, or name
2. Complete and return the ballot so it arrives before your state's ballot return deadline (see Voting Assistance Guide).
For the general election, you should receive your ballot by early October.
Vote and send back your ballot as soon as you receive it. Check the deadline for your ballot based on your state.
You can return your ballot via: Local mail with appropriate international postage, U.S. Embassy Diplomatic Pouch, you or another person can drop off your ballot request (FPCA) or completed ballot at the nearest U.S. embassy or consulate for return to the United States. It must be addressed to your local election officials and have sufficient U.S. postage, or be in a postage-paid envelope. A postage-paid envelope is available on the FVAP website. Contact the U.S. embassy voting assistance officer or visit the embassy's website for specific instructions. Fax, Email, or Internet, some states permit the electronic transmission of completed ballots. Again, consult the Voting Assistance Guide for options in your state. You could also use an Express Courier Service if time is short or local mail unreliable, at your own expense.
If you requested your ballot but haven't received it, contact your election office to ask about the status of your ballot request.
If there isn't enough time to receive and send back your ballot before the election, use the Federal Write-In Absentee Ballot (FWAB) . It works as a backup ballot.
If your official absentee ballot arrives after sending in the FWAB, fill out and send in the official ballot too. Only one vote will be counted.
After you send in your ballot, you can check if it was received by your election office.
Voting for candidates for federal offices does not affect your federal or state tax liability. Voting for candidates for state or local offices could affect your state tax liability. Consult legal counsel if you have questions.
Useful Links and Contacts
How to determine the voting residence for registering to vote absentee.
List of useful websites with voting information by state
The Federal Voting Assistance Program is available in many countries to answer questions via phone or fax. Here is a complete list of contact numbers by Country .
If local assistance is unavailable, please contact the Federal Voting Assistance Program in the US. Support Hours of Operation: 7:30 a.m. - 4:00 p.m. ET, Monday-Friday:
Toll-free: 1-800-438-VOTE (8683)
DSN: 425-1584
Thinking Outside the Box(es)
By Cory Rubinstein

How Effective is Your Relocation Benefit Package?

For many companies, "relocation" means moving new hires and their families from Point A to Point B. The Company agrees to pick up the check and the movers do the rest. As an added bonus, many companies provide some kind of "lump sum" signing bonus for their transferee to use as they see fit during their transition. This is the extent of most relocation benefit packages.
What could possibly go wrong?

Choosing a Home
Let's compare corporate relocation to the do-it-yourself travel process. When using a service like AirBnB, prospective travelers view photos of available homes to rent. They can narrow their search down by location (whether or not they have the entire home to themselves) and price. User ratings allow them to assess other guests' experiences with the home. Ultimately, they make an educated guess and pull the trigger.
If the place isn't great, you leave a bad review – chances are you're probably going to spend most of your time outside the place anyway. You are on vacation after all.
Now imagine this same situation, except instead of a short-term rental, the individual is looking at a one or even two-year lease! All of a sudden, the stakes are much higher. Unlike AirBnB, most homes don't have ratings from previous tenants available to review. Therefore, the decision boils down to photos, geography and price.
Now imagine this employee has never lived in their new city before. Maybe they've never even been there. How intimidating a decision is that? How many transferees do you think would appreciate the opportunity to have a local connection review these same listings, contact the owners, and go personally on-site to take photos and videos, allowing the employee to see their prospective home with their own eyes before making a decision?
Oh, I forgot to mention, the local connection isn't a real estate agent trying to unload inventory. They are an impartial expert whose only motivation is to line up the best situation for your candidate

Spousal Isolation
Let's suppose the person your company is relocating ends up in a home they are happy with, and they fit right in to the culture of your Company! Hooray! But, wait a minute…suppose the Spouse isn't happy. While your new employee is putting in long hours at their new job, their spouse is at home dealing with the tasks of getting the children into school, finding services for the family, navigating the new neighborhood, finding furniture, etc.
Let's say this spouse has no friends in the city. Do you think that might wear on them? Again, this is where having a seasoned local working for the family is so key. The Relocity Personal Host (our term for their dedicated consultant) essentially becomes the family's first friend in Los Angeles. They are not only there to make sure the family gets the perfect home, but also to make sure that the family gets the most out of the local experience.
Maybe the spouse has always wanted to take an art class, but doesn't have the time to look into it with all the chaos going on in their life. The Personal Host will not only assist with the chaos (schools, services, furniture, utilities), they can also assist with the little things like identifying activities that will enrich the lives of the transferee and their spouse. Your relocation benefit has now become a transformative lifeline.

Culture Shock
When I moved to Los Angeles in 2003, I was a 23-year-old from a small town in Michigan. The biggest city I'd ever lived in was Ann Arbor. Needless to say, Los Angeles was a big change. Fortunately, I was young, courageous and found like-minded friends very easily. But not everyone can be 23 and care free.
For many who are relocating for the first time, it may be comforting to be around people who share a similar ethnic background, religion, heritage, and value-system, at least at first. A big reason some individuals ultimately decide that a city isn't for them is because they never really became a part of a community within that city. For people who are perhaps on the introverted side, this can be even more difficult. A Personal Host can smooth the transition by working with an individual and their family to help them find a little piece of home in their new home town. This can be a crucial relocation benefit in some cases, especially in those first few months.

Conclusion
The bottom line is: there is so much more to relocation than just moving boxes. In fact, the move is just the beginning. How the first few months in a new city go for your transferee sets the tone for their overall happiness in their new environment. This is why a quality relocation benefit including concierge destination services such as those from Relocity makes a huge difference for your corporate culture. No amount of free lunches or other perks will have as much of an impact on the transferee's perception of their company as how the company took care of them during a stressful and life-changing time.
SF Neighborhoods - A Quick Overview
By Matthew Hutchison
Choosing the right neighborhood to live in San Francisco can be a challenge. Especially with the famously high cost of real estate, getting the most bang for your buck while making sure a neighborhood fits one's lifestyle takes intimate knowledge and experience.
At Relocity, we optimize our clients' chances by connecting them with a local expert called a "Personal Host". Our Personal Hosts know the ins and outs of each neighborhood. They also get to know their clients well so that they can make highly targeted recommendations that will optimize happiness.
While no blog post can offer the customized information provided by one of our hosts, here is an overview of some San Francisco neighborhoods your employees might want to consider.
Brace yourself, however. The average monthly lease for a one-bedroom in San Francisco is $3,295 and the average home price is $1.61 million. Still, we are here to help make the most of an investment.
Marina District
This waterfront district is popular with many young professionals and recent grads (along with some long-time residents) who enjoy the marina's quaint bars and restaurants, as well as a variety of shopping options. Active types (and pet owners) will also love being adjacent to the Presidio National Park, a huge natural area offering hiking, cycling, and great views of the Golden Gate Bridge.
Mission Bay
To the east of the Marina facing Oakland is this other waterfront district that has undergone extensive development lately, providing lots of much needed new housing options. This area is also popular with the young professionals and tech crowd.
Mission District and South of Market (SoMa)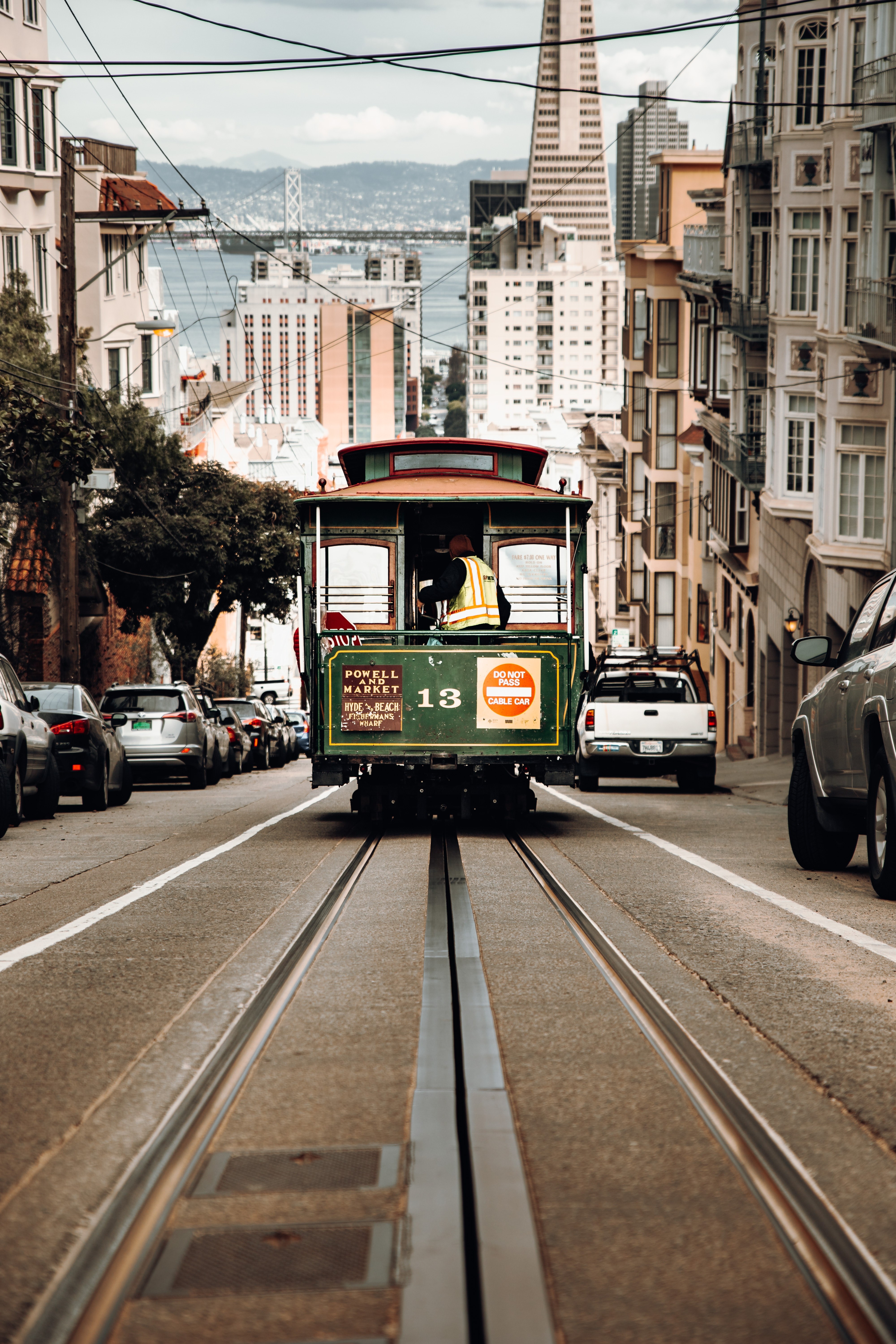 If one's vibe is a little more hipster and edgy, the Mission District (inland from Mission Bay) and SoMa are great choices. Though undergoing gentrification during the last few years, there are still plenty of nightclubs, ethnic restaurants, music venues, recording studios, and art galleries to justify the artsy reputation. SoMa especially deserves its artist's cred as home to the Museum of Modern Art and Museum of the African Diaspora, as well as numerous artist's lofts, boutique hotels and tech startups. Both neighborhoods are close to BART and train stations for an easy commute.
Outer Sunset and Outer Richmond
If a family is looking for a bit more suburban environment, Outer Sunset and Outer Richmond on the opposite side of the peninsula offer more single family residences, open spaces and family-friendly resources, including easy access to Ocean Beach and Golden Gate Park.
Pacific Heights
If one can afford it, Pacific Heights is one of the most beautiful and iconic neighborhoods in the city. Many of the homes are Victorian, dating from before the 1906 earthquake (and fires that destroyed much of the city), as well as mansions that were built soon after. Built on a ridge, there views in several directions of Golden Gate Bridge, the Marin Headlands, Alcatraz Island, Twin Peaks and the Sutro Tower. There are two gracious parks, Lafayette and Alta Plaza, and Filmore street is lined with quaint shops and restaurants. However, in 2013, Pacific Heights was named the most expensive neighborhood in America. So be prepared.
Oakland
Because of the high cost of neighborhoods living in San Francisco proper, many have chosen to live across the bay in Oakland and its surrounding areas. Oakland, of course, is a separate city, not just a neighborhood, and includes its own variety of neighborhood choices (subject of a future post). If you can deal with the commute, Oakland might be a smart, more affordable option, as the city continues to develop and improve with the recent influx of residents.
Sorting out all of these options, as well as the numerous other neighborhoods in the Bay Area, will be easier with the guidance of a local expert like one of our Relocity Personal Hosts. If your employees are moving to the San Francisco area, providing a concierge service like Relocity to help them deal with the decisions and pressures will dramatically enhance their experience and improve their performance on the job as well.
What "The Craic" Is and Why You Need It (in Ireland)
By Matthew Hutchison
If you are new to Ireland, you may be confused when someone walks up to you and asks "What's the craic"? (pronounced "crack").
No, they are not asking for drugs.
To the Irish, craic is a term for news, gossip, fun, entertainment, and enjoyable conversation. It's how a Dubliner or Corkonian is likely to pass the time with their friends.
Fun and spending time with friends is so important to the Irish that the expression "What's the craic" has essentially come to mean "How are you?" or "What's happening?". Not all Irish are familiar with the term, however. Check out this fun video from Ryanair of Irish locals attempting to define it.
But make sure you use the word properly! To get you quickly up to speed with the locals, here is some cool 'craic' lingo:
Good craic: An ok time, fun but nothing too amazing.
Mighty craic: Better than good craic, a great time was had.
Savage craic: Great time all together and everyone on top form.
Deadly craic: A step above savage - a super great time.
The craic was 90: An amazing time had by all.
Minus or Zero craic: Essentially boring, not much fun.
To some, craic is no joke. In a 2001 review of the modern Irish information economy, professor Eileen M. Trauth called craic "an intrinsic part of the culture of sociability that distinguishes the Irish workplace from those of other countries." She further points out that good craic and a social life are "a fundamental part of workers' judgment of quality of life." Sounds like serious business! Woe be to the newcomer who has not found good craic - or the business that neglects it for their people!

Luckily, for people relocating to Ireland, we've got you covered. This is how we are different from other destination services providers. We care about our clients' social lives and "quality of life". We want to make sure that every client fits in with their new community.
That's why lifestyle services are a key part of our offerings. Whether it's taking a class, signing up with an arts organization, playing a sport, or just finding a pub or restaurant where they feel comfortable, employees need opportunities to broaden their horizons and make connections.
Especially in Ireland (where Relocity serves Dublin and Cork), we work to make sure our all our clients' craic is 90 and beyond!
They Can Really Do That?
By Cory Rubinstein
In the three years working with Relocity, I have been continuously impressed with the 'Personal Hosts', the Relocity term for a destination consultant – though our hosts are so much more. These men and women will always go above and beyond to eliminate stress for the transferee while setting them up to be happy and comfortable in their new life. Here is a sample of the work accomplished for ONE SINGLE transferee and their family (husband and two daughters) over the course of a 6-week period.
After the initial consultation, Host immediately began researching rental homes that fit the transferee's specific criteria – a 4 bedroom with a pool, near good schools, but not too far from work that will accommodate 2 large dogs…on a budget!
Provided video tours of applicable houses
Arranged a pre-move trip for the family who flew in from across the country
Successfully secured a lease for their ideal home
Provided research on grocery stores, pet supplies, dry cleaners, stylists, swim lessons for kids – things no regular relocation consultant would ever do!
Researched and secured surf lessons for the entire family - really!
Measured the home for furniture, then went furniture shopping with the transferee utilizing Relocity's retail license. Helped them purchase living room, dining room and master bedroom furniture at a discount.
Met Internet provider at home for set-up.
Met furniture delivery people at home for delivery.
How much do you think all of this cost? Would you be surprised if I told you it was less than $4,000 dollars? Well, it's true. This was a 40-hour relocation ($99/hour). Working with the transferee, the Personal Host put together a game plan for accomplishing all of their specific objectives within the time constraints permitted. All of the Host's actions were done in collaboration with the transferee. This was no boilerplate relocation. It was completely customized. Why settle for a typical destination consultant when you can have your own Personal Host instead – someone who manages every aspect of settling in, while also making sure all your personal needs are met? This is the kind of service you get with Relocity. Nothing else even comes close!
Your Personal Parachute
By Cory Rubinstein
Imagine you're on a small airplane soaring 10,000 feet above the ground below. One by one skydivers leap from the airplane. Your nerves are rattled. You're not sure you can do this. And ultimately, you decide it would be better if you returned home. This situation is an apt metaphor for relocation reluctance.

Relocating is scary. There are so many considerations. Will I like my new home or my new neighborhood? Will my family be happy? Will I make new friends? Will I find goods/services on par with what I've grown accustomed to? Anxiety leads to indecision. Indecision leads to staying put on the plane.

Relocation reluctance is a factor in over 60% of relocations. If you are a business owner or recruiter, overcoming this anxiety is going to be a major concern when attracting and retaining valuable employees.

Relocity has a solution for relocation reluctance, and that is the Personal Host. Think of the Personal Host as your very own Personal Parachute. When you finally take a leap into the unknown, the Host is there to guide you smoothly toward your destination.

Personal Hosts are trained professionals who specialize in organizing and optimizing your transition. They listen to your concerns and address your needs one by one. Imagine trying to find a new home and having to make a choice relying only on pictures. A Personal Host will physically go to each potential home and conduct a video tour, walking you through every last detail of the home that is of particular interest to you, providing you with insight and peace of mind.

Imagine having to choose a school for your children when you have never visited the school before and know nothing about it. A Personal Host will provide detailed research on the school and even visit the grounds and talk to the administrators on your behalf.

The Personal Host can assist with identifying doctors, dentists, day care, after-school care, music lessons, language lessons, nannies, babysitters, housekeepers, gardeners, contractors, beauticians, trainers, yoga teachers, religious communities and so much more. Go ahead and jump. We've got you covered.
Building a Culture of Success
By Cory Rubinstein
How well is your corporate culture operating for your work team and company? As a leader, you're responsible for the quality of workplace relationships and team cohesion. Leaving your corporate culture to chance is a sure pathway to workplace frustration.
A positive corporate culture can be one of the most important contributing factors to employee productivity and retention. Beyond creating a happy workplace, developing a distinct company culture can increase referral hiring and foster an environment of creativity and innovation.
Developing a strongly positive culture isn't the only task: conveying that message is also a priority. Talent acquisition and marketing should become involved in developing and propagating the message of exactly what your workplace culture means.
Corporate culture is one of those hard to define things, and can be interpreted in slightly different ways depending on the organization which is applying the meaning to itself. The most general idea of a company culture could be expressed as the set of common feelings and aspirations the management wants to infuse across the entire organization.
The culture is largely dictated and driven by the management; after all, the employees look to their supervisors and their supervisors' supervisors to determine what behavior is acceptable and encouraged. This can and should include the vision, mission, and values established for the company, and the degree to which the members of the organization or the employees of the company are aligned with these goals. If the management team fosters a creative, dynamic environment which empowers the employees, this will spread throughout the company.
Conversely if the management micromanages the employees and publicly derides them for their own misguided purposes, this too will infect the organization and eventually create a toxic culture. The culture of a company is a difficult thing to alter or change, as it is rooted in the human behaviors of its members.
Corporate culture must be assessed and molded in a regular and intentional way by the management, human resources staff, and executives of the company if there is to be the desired alignment of the employees' goals and the company's goals. This should entail a well thought out and detailed strategy that is consistently and regularly reassessed and followed through on. The time frame for changing the culture in a company will depend largely on the size of the organization. In a small to mid-sized company, realigning the culture will be naturally easier and thus take less time. In larger companies, this time frame can be much longer, sometimes requiring a significant time investment to see the kind of changes that are significant.
The long-term effects of a properly implemented corporate culture shift are usually extremely positive for the company, yielding higher productivity, higher employee satisfaction, and larger growth for the company. At Relocity we believe the culture of the company starts in the on-boarding process. This is especially important when it comes to relocating employees. If you are uprooting an employee and his family from their home and comfort zone we believe it is incumbent to make sure the employee and his family find the right fit in their new city, neighborhood, school, all of it.
We work hard to help the transferring employee find happiness in their new home so that they bring this first major positive experience with them to their first day of work. If the first impression of your organization is that the company cares about them on a personal level and will do what ever it takes to help them settle-in and be successful, then you have taken a huge step forward towards building a culture of success.
Relocating to the Right Neighborhood
By Cory Rubinstein
Recently I had a meeting with a top executive of a great digital media company out of Seattle. During the conversation, I mentioned to him that I live in Venice Beach, California. Then he said to me "I lived in LA with my wife for just under a year in a part of town that didn't work for us." He continued "I love Venice. Had we originally moved to Venice, we would probably still be there." As the result of a bad relocation to the wrong LA neighborhood, he was miserable, his wife was miserable, and they ended moving back to Seattle.
"What a loss", I thought to myself. Don't get me wrong, I love Seattle, but this guy was obviously incredibly talented. He had helped grow several noteworthy companies, bringing two of them public, and due to a bad relocation, his company lost him in under a year. Replacing an executive of this caliber can cost a company not only valuable time but up to 400% of the person's salary. At a base of $250,000.00, that's one million dollars. So how did this all go so wrong?
There are 3 points of potential failure here.
1. Wrong location for life style. Newcomers to any city struggle with making decisions about where to live because they have not had the years it takes to pick up clues about culture, style, and amenities that any local would understand almost instinctively. For instance, in Los Angeles, if you are young and artistic with no kids, North Hollywood can feel like a death sentence. Conversely, a family with kids from the Midwest might struggle with the urban vibe of Silver Lake. Similar differences between neighborhoods exist in any major city. Those who take to Brooklyn easily might not like being in a suburban setting on Long Island.
Which brings us to the second point of failure:
2. Spouse. If the employee's spouse is not happy, companies will be dealing with a potential time bomb. Every day when the employee arrives home from work, an unhappy spouse may eventually grow frustrated and push to move back to their former home city. This continuous pressure will affect the employee's effectiveness at work and, like my friend from Seattle, it could result in losing the employee.
3. Family. Finding the right place for a family can be particularly challenging. Locating a part of the city that offers the right combination of affordable housing, space for kids, and good schools can be extremely challenging. If you do locate the neighborhood with these features, there is little chance that you will be able to get your children into the high performing school in that neighborhood. Most of the "good" schools will undoubtedly have waiting lists. Being able to find the right house in the right neighborhood that your employee can afford that happens to have a good school they can get their kids into can be all but impossible for a relocating employee to navigate.
This complexity could force top talent to decline an offer, or worse, churn out of the position. With so much of what your employees deal with outside of the office severely impacting their performance inside the office, and with the current competitive talent market, attracting and retaining top talent can be challenging.
By helping them achieve happiness in their new home you are not only doing the right thing for the employee, you are doing the right thing for your organization as a whole. Making sure the employee finds the right fit when they relocate is critical. As an organization, your company needs to do more to make sure the employee is properly relocated, in the right location, with sufficient attention to their lifestyle needs, or it could literally cost you millions.
At Relocity, we take care to make sure an employee is relocated to the right house in the right neighborhood, with all of their family's critical concerns addressed. We consider every aspect of the employee's lifestyle, their goals and their passions. Then, our Personal Hosts take the time to literally hold their hand throughout the arrival and settling in process, and even beyond. Relocity has found that employees we relocate this way are happier, more productive, and stick around longer.
First Page
Next Page
Last Page